Here in this post we shall learn how we can optimize web page load time. Optimizing page load time is very important because

If your page load time is slow and if your reader is having a slower internet connection your reader will not want to read your article instead will want to jump to another site that the reader wishes to read on.




Google bot will not go through all your page content or sometimes will not read or index a page of your blog if your page consist of a lot of file size to be downloaded to read a page and etc.

So due to this reason and many, its important that we would want to optimize your site to a faster page load time. You can examine the page load time of your site here.
The Page load time of this blog has been examined and has the following info,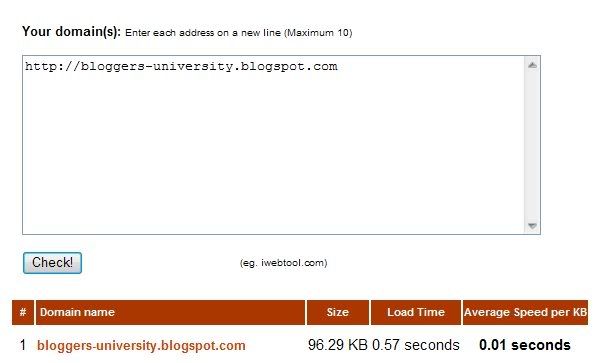 here in this tool it will allow you to check your each page of your site and will allow you to check 10 URLs' at a time. Now lets learn how we can increase or optimize the page load time of our site .
Methods to increase your web page load time
To remove unwanted multemedia:
Multemedias like picture, audio, video, flash or others that you consider would use a lot of size and is also not necessay is better and recommended to be removed becasuse each time a web page is bieng loaded the whole page content needs to be downloaded to be viewed. This would be one of the main thing that you should consider when you want to have a good page load time.


Source read from other Servers:
Suppose your using anything from other servers like in a web page your having a lot of image sources to be read from several other servers, in that particular web page the load time will possibly increase due that the image sources needs to be read from all of the servers to the page to be displayed. So important that you use your own domain to upload your pictures or any other multimedias.


Scripts effect:
If you have noticed that if your having a normal internet speed connection that it takes a little time to load your Google ads if you have used or using, the reason is that the javascript source needs to be read from the google server and then be executed in our web page, so its clear that scripts takes time to be executed. So its better you remove unnecessary scripts.


If your having a slower page load time and if the said points are practised on your blog, we are pretty sure it should help you some what. So its always neccessary that you often check each web pages of your blog regularly in the said tool and optimize accordingly.

Hope you like this post of ours, to read more post of similar and many more on blogging, enter your email and subscribe with us to recieve updates of this blog via email or subscribe to as a reader.
| | |
| --- | --- |
| | |
Do you think this post is worth reading and would you like to help our work, if so please bookmark this post for us and lets share it with others.
Link to this post: